My Dream Home of the Future: Computer in Server Closet; KVM in Home Office; Home Theater
I have been watching a couple of YouTube videos of people who want a computer in one room (such as a wiring closet) and a keyboard, video, and mouse (KVM) in a home office. To give you an idea of what I'm talking about, I want to post links to YouTube videos.
Embedding YouTube or Odysee videos will insert a tracking cookie in users' personal computers. As a citizen of the US, I need to follow GDPR if European visitors visit my website. I don't like and want to talk to lawyers to be honest. 🤣😀
As for the video from Linus Tech Tips, I would much rather have a couple of computers rather than single computer that can house a couple of virtual machines running desktop OSes such as Linux and Windows just to make it easier for me. So yeah, a virtual machine is a computer within a computer that can serve different purposes such as running Ubuntu within Windows using VirtualBox or by running Windows OS in a Linux host using KVM or Xen.
So, I have an idea of my own. When it comes to building a house, I would like to wire my future house for Ethernet and HDMI connectivity. The computer will be in a wiring and server closet and my essentials such as my mouse, keyboard, monitor, audio interface, and a couple of others will be in a recording studio/home office room. So here's what I'm thinking of buying in the future:
One concern I had with USB over Ethernet is latency from the audio interface to the computer over the Ethernet cable. However, one look at the images and answers to questions tells me that latency over Ethernet cable should not be a factor. That way, I can have my computer fans spin at max RPM in the server room (well, maybe not too loud) and still have complete silence in my studio/office with sound proofing and acoustic panels.
Oh, here something that I would like to show you (for those with eyesight). It's a home theater room made in Blender.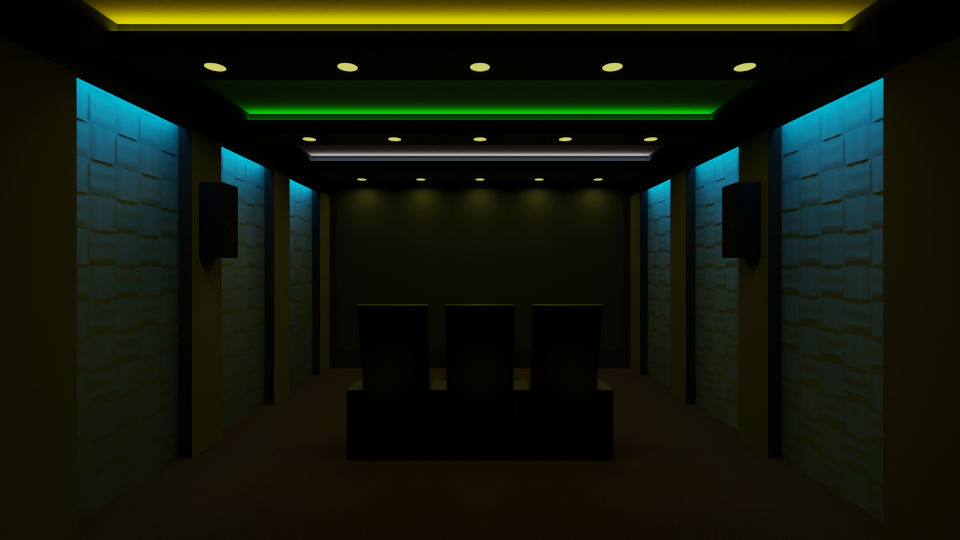 My dream of a home theater will be a lot simplistic than that with flat ceilings with no light strips in between them. A home theater will be in a basement. Speaking of home theater, I could patch my home desktop over to my home theater while in the server closet if I want to watch YouTube/Odysee videos. How cool would that be if a house can have a central computer core just like in a starship such as U.S.S. Enterprise D or U.S.S. Voyager? Speaking of starships in Star Trek, do you know that a central computer core can span over several decks? Actually, a starship can contain two or more computer cores. My house might have only a single central computer core with a couple of rack-mounted desktops and servers as part of a homelab! Here is an example of a homelab shown in a YouTube video.
As for rack-mounted desktop PCs, I'm thinking of Rosewill RSV-L4500U Rackmount Server Chassis and put them inside a StarTech.com 42U Server Rack Cabinet. Oh, sure the rack-mounted enclosure costs more than an open-frame 42U rack, but to me, it will look a lot cleaner by having an enclosure. Now if only there are 5U or 6U rack-mountable computer cases so I can fit a tall heatsink such as Noctua NH-D15 or Scythe Ninja 5 heatsink. Now keep in mind. I do not care about the looks of computer components. No RGB fans, no tempered glass side panels from the likes of Lian-Li 011 Dynamic XL or even from Phanteks line of computer cases, no nothing.
Why!?
Out of sight, out of mind.
That's my mindset when it comes to computers. If you watch Star Trek, you must know that Captain James T. Kirk does not look at a central computer core every single day while he's in his quarter or in the bridge! No Starfleet officers should care about how cool computers look as long as they perform their jobs! Sorry elite gamers, but I do not like the market the computer case manufactures are targeting. Go look at how cool your computer looks while you are failing your Cisco CCNA course because hey! All that cool RGB fans and that NZXT Kraken Z73 cooler of yours are so much fun to look at! 🤣
As for me? I'm excelling in Cisco CCNA course! Why? My Silverstone FARA R1 computer case only has a plain side panel and is free of distractions. It's unfortunate that a computer case with a plain side panel is unavailable. But I have it! However, the limitation I have is I cannot take the case feet off so I can fit on top of a rack-mounted shelf.
Oh, did I meant to taunt you for having all that cool tempered glass computer case with all that RGB gizmos? Get over it! Seriously. I know you've been playing games 24/7 while you look at how cool your computer looks. Okay, okay. I'll be nice to you elite gamers! 🙂
If you want to get into the world of homelab, Lawrence Systems and Learn Linux TV has done a couple of videos for setting up different aspects of homelab such as Home Assistant, storage server, firewalls and switches, Linux, Ansible, securing your lab, and so much more. Check out the playlist on YouTube and enjoy! Any desktop PCs will be part of a homelab as well. And yes, RAID is not a backup solution. In a RAID 5 setup with 7 hard drives (6 for data and 1 for parity), if one drive fails, swap out the hard drive as soon as possible. But if two drives out of 7 fail, you lose all the data inside the hard drives.
Now here's a question. What about entertainment devices such as NVIDIA Shield TV, and PlayStation 5? These devices can sit on a rack-mountable shelf and can be patched to my home office room using an Ethernet-based USB extender. For HDMI, I can make use of Anthem MRX 740 for my home office room and use HDMI Zone 2 Out to pass HDMI audio/video signal to Anthem MRX 1140 receiver, which can go to the home theater room. What I've learned from a thread over at avforums.com is that the main receiver (MRX 740) will pass audio/video signal to another receiver and plays no part for processing A/V signals.
What that means is I can independently select a source in the second zone while the first source will remain intact in the main office room. Just tell Home Assistant to switch to NVIDIA Shield in the second zone of MRX 740 receiver, and Home Assistant will do the rest. Whatever is shown in MRX 1140 for the home theater room will reflect what was shown from MRX 740's HDMI Zone 2 output.
So yeah, centralizing desktop PCs in a wiring/server closet is my dream of the future! Centralize all the desktop computers into one 45U server rack! 🙂
---
Article published: 2021-08-14 17:42
Categories: Dreams and Imagination, Homes and Buildings, Home Theater, The World of Computers, Computers, Networking,